Denzel Washington Directs And Stars In 'The Great Debaters,' On DVD May 13

Inspired by a true story and "one of the year's best films" (
Chicago Sun-Times
),
The Great Debaters
is a touching and heartfelt drama about the power of words, fighting its way onto DVD May 13 as a two-disc collector's edition from Genius Products and The Weinstein Company.
Two-time Academy Award winner
Denzel Washington
(
American Gangster
) directs and leads an ensemble cast with "strong, emotionally grounded performances" (New York Times) including Oscar winner
Forest Whitaker
(
The Last King Of Scotland
),
Kimberly Elise
(
Diary of a Mad Black Woman
),
Jurnee Smollett
(
Gridiron Gang
,
Beautiful Joe
) and up-and-coming actors Nate Parker (Pride) and Denzel Whitaker (
Training Day
).
The Great Debaters
chronicles Professor Melvin B. Tolson, a brilliant and steadfast debate team coach who uses the power of words to shape a group of students from a small African American college into a historically renowned debate team. A critical favorite,
The Great Debaters
garnered numerous awards including a Golden Globe nomination for Best Motion Picture, the African American Film Critics Award for Best Picture, the Stanley Kramer Award and the Freedom of Expression Award. Produced by Winfrey, David Crockett, Todd Black, Kate Forte, Joe Roth, Molly Allen and Melody Fowler,
The Great Debaters
"soars with words and feeling" (
Entertainment Weekly
). Featuring deleted scenes, multiple featurettes, a collectible souvenir booklet and much more.
A controversial figure, challenging the social mores of the time, Professor Melvin Tolson (Washington) used unconventional and ferocious teaching methods to shape a debate team at Wiley College, a small African American university in Texas during the 1930s. Fighting against all odds and paving their way to success, the team reaches a pivotal moment when they are faced with one of their greatest challenges yet… going up against Harvard University's critically acclaimed national championship debate team.
Special Features:
- Commentary By Actor/Director Denzel Washington (both versions)
- Deleted Scenes (both versions)
- Documentary With Original Debaters
- Music Of
The Great Debaters
- Original Score With
James Newton Howard
- Making Of
The Great Debaters
- Wardrobe Of
The Great Debaters
- A Visit To Wiley College
- Poetry Of Melvin Tolson (Still Gallery)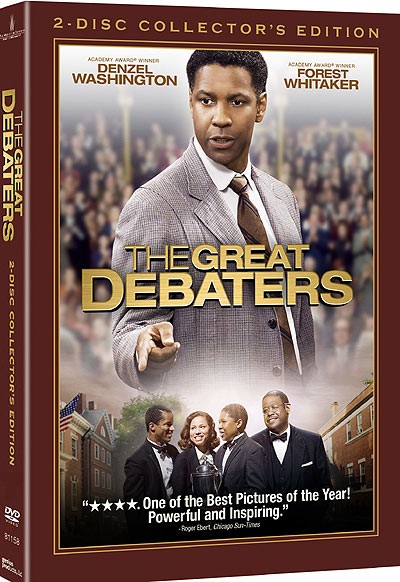 About Genius Products: Genius Products, Inc. (OTCBB:GNPI), along with The Weinstein Company Holdings LLC, together owns Genius Products, LLC, a leading independent home-entertainment distribution company that produces, licenses and distributes a valuable library of motion pictures, television programming, family, lifestyle and trend entertainment on DVD and other emerging platforms through its expansive network of retailers throughout the U.S. Genius handles the distribution, marketing and sales for such brands as Animal Planet, Asia Extreme(TM), Discovery Kids(TM), Dragon Dynasty(TM), Dimension Films(TM), Entertainment Rights group companies (Entertainment Rights, Classic Media and Big Idea), ESPN®, IFC®, RHI Entertainment(TM), Sesame Workshop®, TLC, The Weinstein Company® and WWE®. Genius Products, Inc. is the managing member of Genius Products, LLC, in which it holds a 30% equity interest.
About The Weinstein Company: The Weinstein Company was created by Bob and Harvey Weinstein, the brothers who founded Miramax Films Corp. in 1979. TWC is a multi-media company that officially launched on October 1, 2005. Dimension Films, the genre label that was founded in 1993 by Bob Weinstein, is also included under TWC banner. The Weinsteins are actively working on the production, development and acquisition of projects for TWC.