Denon Exercise Freak AH-W150 Wireless Fitness Headphones [REVIEW]: A Must Have for Runners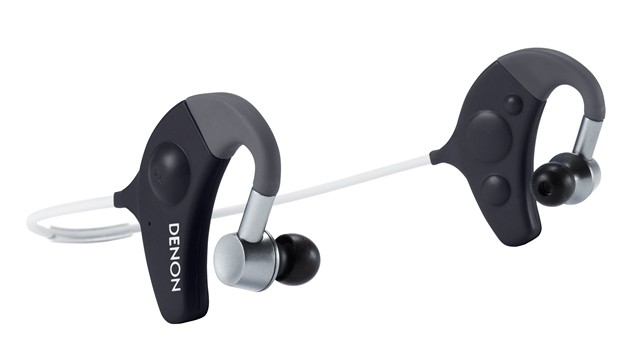 Sometimes when I go running, I think I have too much tech on me. (Probably true.)
In any given time, I've been known to wear a pedometer of some sort, a heart rate monitor and of course—my iPhone for tracking my run and for listening to music.
There's no piece of tech that I hate more when running, then the wire on my headphones getting in my way constantly. So when I was given the opportunity to test the Denon Exercise Freak AH-W150 wireless fitness headphones, I jumped at the chance.
The Exercise Freak headphones utilize Bluetooth 3.0 to hook up to your smartphone or tablet. (Though, I wouldn't recommend running with a tablet.)
Pairing them to my iPhone was quite easy and while there were a number of times that my music dropped for a few seconds, it's hard to tell if that's Denon's fault or the iPhone's. Other Bluetooth speakers I use with my iPhone periodically encounter similar problems.
Denon claims a 7 hour battery, which is recharged via micro USB. I can't verify those claims, but at the same time, as long as you're recharging after each run (even a marathon), you'll be just fine.
The Exercise Freak headphones are in-ear headphones, but it's not a tight fit—by design. The engineers know that runners need to be able to hear ambient noise (like a car horn), so while you'll always hear your music clearly, you'll still also be able to hear surrounding noises.
The two earpieces are connected by a flexible neckband that never felt tight or bounced around on my head. Buttons integrated on the earpieces consist of play/pause and volume up or down. There is an integrated microphone so you can take calls as well.
What was most impressive was the play/pause button. It has a bit of an air bubble inside, so when you're pressing down on it, the button is pushing back on you a bit. What that means is you're not jamming the earpiece further into your ear when you're just trying to push the button. Brilliant design choice.
It might take a bit of time to get used to the location of the volume up and down buttons, but once you do, they're solid enough that it's not an inconvenience when you need to access them.
Overall, the Exercise Freak headphones are light weight and comfortable enough that I turn to them regularly when running. Denon also has a smartphone application for iOS or Android that utilizes a number of the same features as apps like Runkeeper.
The one downside, of course, is the price. Since coming out in September, the Exercise Freak headphones still retail for $149.99. If you're comfortable with the price, however, and you really, really hate your wired headphones when going for a run, you're going to love these.
They're highly recommended, especially for regular long-distance runners who want a bit of freedom from their wires.
To learn more, please visit Denon's official web site.
* Disclosure: A pair of Exercise Freak headphones were provided to this reviewer for the purposes of this review. *