Dennis Hopper Got To See His Son's Acting Debut Before He Died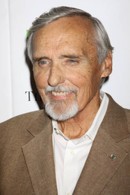 Dennis Hopper got the chance to watch his son Henry in his first acting role before he died last year after director Gus Van Sant rushed the movie veteran a rough cut.

The Easy Rider star was dying of cancer and Van Sant knew the actor didn't have long left, so he handed Hopper a reel featuring Henry's debut in Restless.

The director tells The Hollywood Reporter, "He said that Henry reminded him of himself in Rebel Without a Cause.

"Dennis was very happy and relieved that Henry, who set out to become a painter, was acting."

Restless will debut at the Toronto International Film Festival in Canada.