Dennis Hopper Dies Of Cancer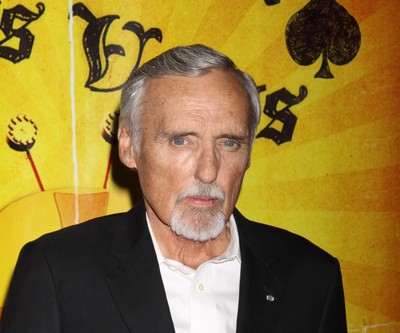 Actor Dennis Hopper has died of prostate cancer at age 74, according to multiple online sources. He passed away Saturday morning.
In 1969, with friends Peter_Fonda and Jack_Nicholson in front of the camera, Hopper decided to direct his own movie. The result was "Easy_Rider," a sprawling, drug-fueled journey through an America torn apart by the conflict in Vietnam. Initially rejected by producer Roger_Corman, the film became a countercultural touchstone, grossing millions at the box office.
He has also starred in films such as "Rebel Without a Cause," "Blue Velvet," "Hoosiers," "Speed," "Waterworld" and "EdTV."
Hopper had been battling personal issues on top of his health problems - he filed for divorce from his wife Victoria Duffy in January and received a restraining order against her in February, after his doctor insisted her presence in the marital home was "hampering his cancer care."
See more photos of Dennis here!