Denis Leary & 'Rescue Me' Co-Producer Peter Tolan Talk Minisodes, Season 5 Spoilers & More

"
Rescue Me
" fans eager for the fifth season will have to wait until next spring for new episodes (damn that writers' strike!). However, FX is airing 10 "minisodes" of new, original content on Tuesdays at 10 p.m. ET/PT beginning June 24.
In anticipation of the new minisodes, Starpulse had the opportunity to chat with co-creators/executive producers
Denis Leary
(who plays Tommy Gavin) and Peter Tolan about the 5-minute episodes and what fans can expect for season five.
One of the major recurring events in Tommy's life is death. Over the past few seasons he's had to deal with the death of fellow firefighters, his son, his brother, the chief and, most recently, his father. Leary explained that the one thing that keeps Tommy together is work.
He said, "Well the thing I think that's always kept him together -- as with a lot of firefighters in real life who - especially in New York, you know, guys who lived through 9/11 and have been through a lot of life and death -- is the idea of work...They don't get a chance to think about the past because they're so involved in the present and the fire that might happen in five minutes or the fire that they just arrived at....But I think in a strange way his father's death is kind of the final straw for him because he doesn't really - it's - you know, it's the death that you most expect because it's a person who is old or a person who is ill that can sometimes be the most effective one because it's - you think it is going to be easy and it's not."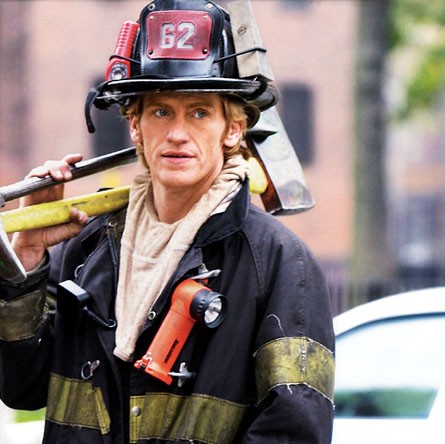 In the first episode of the upcoming fifth season, Tommy's sister Maggie, his cousin Mickey, his Uncle Teddy, and even the guys on the crew are still upset about the loss of Tommy's father while Tommy seems to be unaffected by it. Gradually it comes to literally haunt him to the point where he has to finally deal with it. His father's death is kind of like the exclamation point at the end of the sentence that also involves his son's death, the guys from 9/11, etc., said Leary.
With pain a common theme on "Rescue Me," will there be any happy endings for the series? Peter Tolan commented, "Well, Denis and I have talked over the years several times about sort of...where Tommy ends up and I'm not sure that's entirely a happy end. But I think for some of the characters we would hope to see some positive finish to their stories as we tell them."
He added, "Obviously conflict and bad choices are much more interesting to write than just equilibrium. So I think we can't be mean forever. I think we're going to give some of our characters a nice way out."
What about spoilers for season five? Leary said, "The problem with us is we're - now that we've writing seven and eight - we've forgotten what's the first episode...I just know that in terms of fires, I think you'll probably see the most amazing fire we've ever done in the first episode...Frankly I nearly gave up my life several times to shoot (it)."
Tolan added, "We get so excited about fire on this show. It's a very scary fire - especially scary for (Denis)."
Viewers can also expect some great guest stars next season, including
Karina Lombard
of "
The L Word
." She will play a French journalist who is working on a tenth anniversary 9/11 book.
"I'm not going to tell you what she gets involved with," stated Leary. "It might be a surprise to you, but she gets involved with everybody in the firehouse to begin with because she's trying to get their feelings and their experiences of 9/11 written down so she can put them into this coffee table book that's due to come out, you know, on the tenth anniversary."
Spring may be a long way off for "Rescue Me" viewers, but the minisodes will offer some entertaining tidbits in the meantime. Each of the five-minute minisodes will feature Leary and the rest of the show's ensemble cast in weekly comedic, standalone episodes. Want to see what happens when Sean climbs into Tommy's bed at the firehouse? Then tune in Tuesdays at 10 p.m. on FX. Fans will also be able to catch the minisodes the day following on the FX telecast at www.crackle.com/rescueme and via SPT's The Minisode Network on other online and mobile partners.
"Rescue Me" photo gallery
More "Rescue Me"
Story by
Noelle Talmon
Starpulse.com contributing writer