Demi Moore: 'I Have A Love-Hate Relationship With My Body'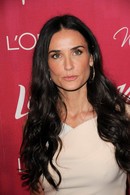 Demi Moore has spoken out about concerns over her falling weight in a new magazine interview, admitting pals have warned her she doesn't look good.

The Ghost actress was left heartbroken as her marriage to Ashton Kutcher fell apart in November after six years; following weeks of speculation the actor had been unfaithful.

Fans feared for Moore's health as she was spotted sporting a much leaner frame after the split, and now the beauty has tackled the subject in a chat with Harper's Bazaar magazine.

The 49 year old tells the publication's editors that close pals have told her she is too thin, but she admits that although she has "greater acceptance" of her body as she ages, she has always struggled with aspects of her image.

Moore tells the magazine, "I think I sit today in a place of greater acceptance of my body, and that includes not just my weight but all of the things that come with your changing body as you age to now experiencing my body as extremely thin - thin in a way that I never imagined somebody would be saying to me, 'You're too thin, and you don't look good.'

"I have had a love-hate relationship with my body. When I'm at the greatest odds with my body, it's usually because I feel my body's betraying me, whether that's been in the past, struggling with my weight and feeling that I couldn't eat what I wanted to eat, or that I couldn't get my body to do what I wanted it to do."