Demi Moore & Ashton Kutcher's Five-Year Marriage In Jeopardy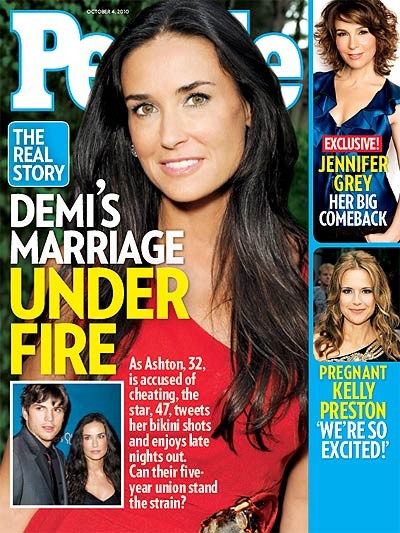 After a cheating accusation, Demi Moore and Ashton Kutcher seem to shrug off the rumors and maintain a united front in public. In recent weeks the famous pair have held hands at a barbecue and football games, danced late into the night in Las Vegas, and flirted between takes on-set. But every marriage has its strains. This summer a source says Kutcher, 32, admitted that while he was still happy being married to Moore, 47, he felt restless as the pair neared their fifth anniversary on Sept. 24. "He wanted more out of life," says a source in this week's issue of PEOPLE.

Was Kutcher simply expressing the natural anxiety of a man who wed in his 20s or were there bigger problems in his relationship? The answer may depend on whether you believe the story of Brittney Jones, a 21-year-old California woman who claimed in a tabloid that she had sex with Kutcher after meeting him at a Hollywood bowling alley on July 24th. Although the Twitter-addicted couple often respond to rumors online – on Sept. 1st Kutcher blasted a different tabloid account of cheating as "defamation of character" – this time his lawyer responded. "This is not the first, nor will it be the last time the tabloids engage in reckless conduct," said Kutcher's attorney Marty Singer.

Also on Sept. 1st Moore tweeted self-portraits flaunting her age-defying figure in a tiny string bikini – with the photos going viral just as the first round of tabloid rumors broke. The next night she caught an all-male burlesque performance at Hydrate in Chicago – with friends and daughter Scout – before heading to Cuvee nightclub, where she "danced her ass off" until 4 a.m., says an onlooker.

But Moore and Kutcher haven't stayed far apart for long, and she tweeted photos with her "hubby" when he visited her on Sept. 18th in Michigan, where she's filming The Reasonable Bunch. During the visit, a set source says the couple seemed as loving as ever: "She gushes over Ashton. You could hear them laughing in her trailer." Privately, a source says the couple are "angry" about the rumors and have instructed loved ones not to inquire: "Kind of a 'don't ask, don't tell' policy."

Moore's close pal Heather Parry told PEOPLE last year, "He knows what he has and the same for her – she appreciates him. They have an incredible mutual respect for one another." But a source who knows the couple says, "They love each other, but Demi can get insecure."

Often outrageous in public, Kutcher has become more retiring since his marriage. "He's changed so much," says a source. "His personality, the way he dresses – he used to be such a goofball." Moore is take-charge. "Demi is very controlling. At the beginning of their relationship, Ashton would just follow her around." Would she tolerate cheating? "If she knew about it, she'd never allow it to continue," says the source. "If it's true, neither one of them would admit it. They have too much pride."

If Moore or Kutcher is upset by talk of trouble, neither star is letting it show. Sitting in the stands at a high school football game on Sept. 3rd, "they were very sweet together, cuddling close," says a fellow fan. "They're really good together," adds a source. "I want to believe nothing is happening, because they seem so happy."

Also in this week's issue...

-Exclusive: Jennifer Grey's Big Comeback: "I Met An Old Part Of Myself I Had Forgotten About"
-Inside Kelly Preston's Pregnancy: "I Feel Terrific"
-Lindsay Lohan Fails Her Drug Test: "She Has A Bad Group Of Friends In NY," Says A Source
-Kenny Chesney's Inspiration: "Bruce Springsteen On His Acoustic Tour"

Also check out PEOPLE.com for a special Ashton & Demi photo retrospective.


Click for more great Demi Moore pictures: