Demi Lovato's Rep Silences New Rehab Rumors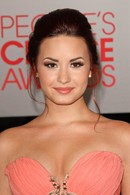 Demi Lovato's representative has silenced rumors suggesting the singer/actress skipped the Grammy Awards last weekend because she was back in rehab.

The 19 year old, who sought professional help for an eating disorder and self-harm issues at the end of October, 2010, was allegedly billed to serve as a presenter at the prestigious Los Angeles ceremony - but she was nowhere to be seen.

A Twitter.com post from Lovato on Sunday only added to the mystery. She wrote, "Away on a mind and body cleansing retreat!! This is exciting.. Won't be tweeting much this week but I love you my sweet lovatics (fans)!"

Her Grammys absence and her Twitter message prompted some gossips to speculate about her whereabouts, but a spokesperson has now set the record straight.

The rep tells MTV News, "She's not in rehab. She was not supposed to present at the Grammys."

Lovato's publicist was previously forced to dismiss fresh rehab reports in January - one year after she completed her stint at the Timberline Knolls Residential Treatment Center in Illinois.