Demi Lovato Shares Makeup-Free Shot On Twitter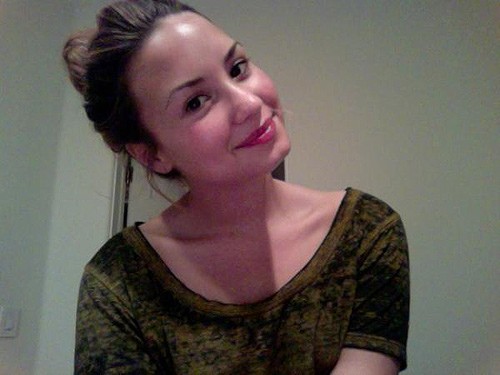 Demi Lovato posted a picture of herself without any makeup on her Twitter page Saturday night with the message "No makeup! Goodnight. xox."

The one-time troubled singer debuted her newest music video last week, for her single "Give Your Heart A Break", which she says is about becoming comfortable with yourself.

She tells E! News, "I want to put it out there and show that women can be independent on their own... I think that's the best lesson that I've learned - to love myself before any other person."

MTV aired a new special about Demi last month, called "Stay Strong", in which she talked about her personal problems with hopes that it will help prevent fans from making the same types of misatkes in life.

"My goals for my fans? It's to really inspire people," she tells MTV news. "That's all I hope to accomplish. If there is a young girl at home dealing with the same issues that I'm dealing with, I want to be able to reach out to her and tell her that it's going to be OK."

The singer also said it took a lot of courage on her part to open up about her past troubles.

"I was most definitely nervous about opening up to the cameras," she says. "And I was very hesitant to say certain things, but once I was around them for a while, I felt more comfortable and really opened up towards them."

Check out "Give Your Heart A Break below...