Demi Lovato Looks Elegant At ALMA Awards Except For The Rib Cage Tattoo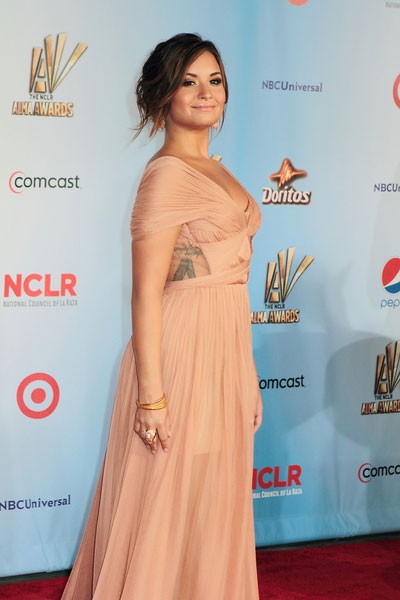 Demi Lovato attended the NCLR ALMA Awards in Santa Monica yesterday looking lovely in a long flowing peach gown. Then we noticed the giant tattoo on her ribcage.
Back in 2010 she tweeted that the ink says "You Make Me Beautiful" inspired by Bethany Dillon's song "Beautiful."  It looks like she has since added feathers to the creation.
She also has the words "Stay" and "Strong" tattooed on her wrists. Plus she has a tiny heart on the right one to represent the love of her fans. What do you think of her body art?
Demi isn't the only Hollywood actress with a tattoo obsession. Angelina Jolie is famous for her ink, and Scarlett Johansson has a large dolphin tattoo on her forearm. But often their art is covered up for films and TV appearances. 
"Dancing With The Stars" recently photoshopped the ink off of contestant Elisabetta Canalis' wrist in a publicity photo.
Last week Ashley Tisdale and Vanessa Hudgens visited a Manhattan tattoo parlor together. Tisdale had "jamais seule," French for "never alone," tattooed on her foot, while Hudgens had the symbol for "Om" inked on the back of her hand.