Demi Lovato: 'It's A Big Responsibility Dating Me'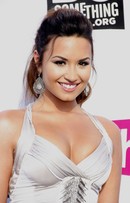 Demi Lovato has issued a stark warning to her future boyfriends, insisting it's "a big responsibility" to date her due to her stint in rehab.

The singer/actress enrolled in a specialist clinic last year to seek professional help for a number of personal problems including bipolar disorder, self-harming and bulimia.

She spent several months in the center but has got her life back on track and is now reported to be in a relationship with actor Wilmer Valderrama.

However, in a new interview, Lovato warns any man in her life must be understanding of her issues and heavy workload.

She tells Glamour magazine, "(I need) someone who's not only supportive in my career, but also in my recovery. It's a big responsibility dating me because I come with a little bit of baggage, you know?

"I'm completely open. I'm honest about the journey I've been on, so I definitely don't take dating lightly anymore."