Demi Lovato And Britney Spears Officially Join 'The X Factor' & Tweet Photos Of The New Judging Panel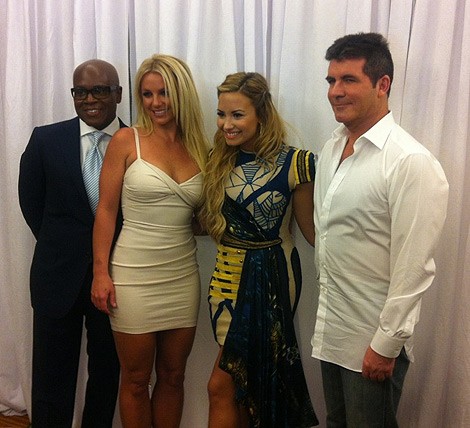 Britney Spears and Demi Lovato are officially joining Antonio "L.A." Reid and Simon Cowell on the judges panel of The X Factor.

The two pop stars were introduced at the Fox network's upfronts in New York City on Monday; and Britney tweeted a photo of the fabulous fall-season foursome.

Brit and Demi replace Paula Abdul and Nicole Scherzinger, who were let go after the first season of the British import.

"I'm so excited about the whole experience," Britney told the Associated Press. "It's going to be so much fun and different from anything I've ever done. I'm ready to find the true star."

"It's official! I am so excited!!!!" Demi added via her Twitter page.

Now all Simon Cowell needs to do is find a replacement for departed host Steve Jones - a job which Miley Cyrus is rumored to be considered for, according to HollywoodLife.com.

"Can't believe it's finally happened. Very exciting!" Simon tweeted.

The second season of The X Factor kicks off this fall.