Deja-Vu At The 2012 VMAs: Amber Rose Confirms Pregnancy On The Red Carpet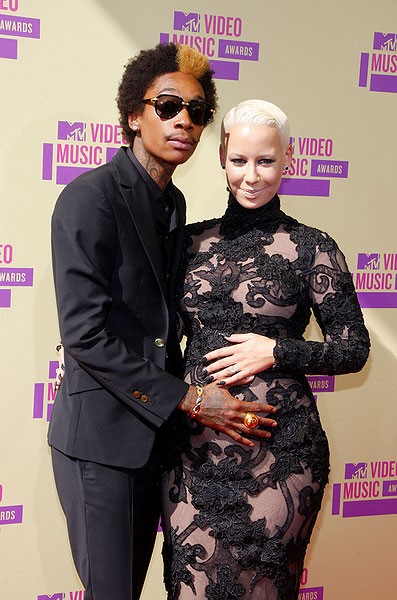 Shapely model Amber Rose kept no secrets on the red carpet at this year's MTV Video Music Awards (VMAs) Thursday night when she showed off a few extra curves in a figure hugging lace dress. Fiance Wiz Khalifa rubbed her belly, confirming the couple are expecting a child together.

The two stars aren't the first to make their baby announcement at the VMAs though -- last year Beyonce stunned fans and photographers at the event by showing off her baby bump on the red carpet.
During her performance of "Love On Top" she told the crowd to "stand up on your feet, I want you to feel the love that's growing inside of me" while husband Jay-Z looked on smiling from the front row.

Rumors of Amber's pregnancy began a few weeks ago but were shot down by Wiz in a recent radio interview.

"You will know when she's pregnant," he said. "But it's not the time now for people to start going crazy."

Rose's ex, Kanye West, was a no-show at the VMAs -- he pulled out of his planned appearance at the show to remain in New York City with girlfriend Kim Kardashian, who's there to promote her new fragrance.

It was probably a good thing he wasn't there, though, as he may have pushed Amber aside to announce that Beyonce had one of the greatest pregnancies of all time.