Defining Greatness: The One-Hit Wonder Scale

Probably the most underrated term in the music industry is the "One Hit Wonder." Popularized in the 80s, one hit wonders are either regarded as artists with one hit (like
Deee-Lite
's "Groove is in the Heart"), or artists who produced a song that everybody knows (like "Turning Japanese" by
The Vapors
).
However, the truth of the matter is that one hit wonders actually come in many shapes and sizes. There are hits that are huge one day and laughable the next, there are hits that are mildly spectacular at first but ultimately propel the careers of the artists who recorded them, and there are hits that are just plain ol' hits.
So to dispel the notion that all one hit wonders are bad, I've created a sliding scale from 0-10 defining the greatness of a true one hit wonder.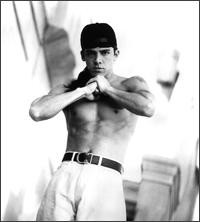 0.0 –
The Gerardo:
One hit song ("Rico Suave"), followed by a lifetime's amount of disses and mockery. At the very least, takes solace in being a legit version of
Milli Vanilli
.
1.0 –
The Chumbawamba:
("Tubthumpting") slight upgrade on Gerardo.
2.0 –
The Vanilla Ice:
One hit song ("Ice Ice Baby") followed by years (and years, and years...) of self parody and a life relegated to Hollywood's D-list. The acute knowledge that boys on the street corner are making better records and selling them out the back of their trunks on a $100 budget than the thousands you spend to make yours. The solace in knowing that for better or for worse, people still know who you are.