Def Leppard Singer Joe Elliott's Father Dies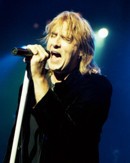 The family emergency that brought Def Leppard's U.S. tour to a sudden halt has been revealed - singer Joe Elliott's father has died.

The British rockers scrapped a show with Heart in Cincinnati, Ohio on Thursday, revealing only that the ill health of a bandmate's family member had forced them to head back to England.

They also postponed a weekend show in Bristow, Virginia and scrapped dates in Wantagh, New York on July 12, and Holmdel, New Jersey on July 13.

And late on Friday it was revealed Elliott's father had died in a U.K. hospital after a long illness.

No more details were available at press time.

Extra shows in New York and Illinois, scheduled for next week, have now also been canceled.