Def Leppard Praises Tom Cruise's 'Rock Of Ages' Singing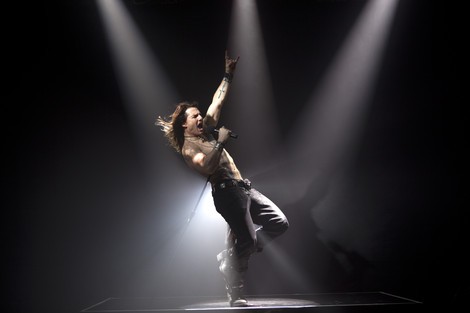 The new musical Rock of Ages stars Tom Cruise as Stacee Jaxx, a rock star in the '80s. The film uses classic heavy metal music, some of which Jaxx performs of his own. With the original artists on set for filming, Cruise impressed even the originators of the tune. Director Adam Shankman recalled the moment when Def Leppard's lead singer heard Cruise perform. 
"How about Tom singing 'Pour Some Sugar On Me' in front of Def Leppard, that was freakin' weird," Shankman said. "I was scared out of my mind and then behind me, Joe Elliot was standing behind me and he said, 'Oh my God he's f***ing better than us.' I just died and went to heaven."
Cruise's costars have a different but equally awesome recollection. Diego Boneta plays an aspiring singer who gets to open for Jaxx. "Like Joe Elliott from Def Leppard said on set when he performed 'Pour Some Sugar on Me,' he went up to Tom and goes, 'You're a movie star, you're a rock star. I effin' hate you!'" Boneta recalled. "What can't Tom do? Not only is he very talented but he's just as humble as he's talented which is my favorite combination."
A musical was a surprising choice for Cruise, but he took on the challenge like any of the physical stunts in his Mission: Impossible movies. Shankman confirmed Cruise does all his own singing in the movie, and worked hard at it behind the scenes.
"There is no one who likes a challenge more than Tom Cruise," Shankman said. "Believe me, there was never a discussion of lip syncing or another voice, because if the guy's going to hang out on the top of the Burj, he's not going to let anybody do his singing for him. I now think there is actually nothing Tom Cruise can't do. I said if somebody asked him to play an invisible water buffalo he would do it very successfully. He would probably say, 'Give me some time, let me work on it' and that would happen."
Casting Cruise wasn't a tough choice for Shankman. "For me he was the only candidate the second I said yes. I'll tell you, his audition was Tropic Thunder. The second I saw him in Tropic Thunder I thought, 'Oh my God, I never knew that this guy could commit to a comedic character with this much success.' He's hilarious and totally willing to take the piss out of himself. I needed that from this character."
Rock of Ages opens Friday.