Deep Purple Guitarist Ritchie Blackmore And Partner Candice Night To Release 7th Album On April 4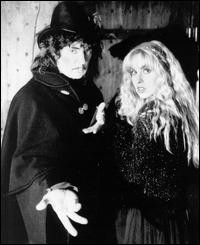 The Village Lanterne
is
Blackmore's Night
's first album of all new material since the acclaimed 2003 set,
Ghost Of A Rose
. Blackmore's unique and intriguing renaissance era sound can only be described, as Blackmore states, as "
Mike Oldfield
meets
Enya
", taking in various elements of world music, new age, folk and rock 'n' roll. The album is available as a single disc Standard Edition and a deluxe Limited Edition with bonus CD containing interviews and video footage which can be played on a PC.
Blackmore is one of the most exceptional contemporary musicians in every respect; legendary as both rock guitarist, or with his acoustic performances on mandola, mandolin and hurdy gurdy. His creativity, composing, arranging, and production levels are up to Blackmore's usual high calibre.
Together with his partner, vocalist
Candice Night
, Blackmore's Night bring you exceptional melodies and haunting lyrics-- from epic songs, to ballads, to old village dances-- their style of contemporary music with overtones of the 5 medieval instruments played by Candice make their Renaissance/Folk/Rock music unique. Her enchanting vocals will soothe and haunt you as she weaves her musical spell across every aspect of musical genres. Their penchant for what can only be described as medieval in style, combines great vocal melodies, seemingly archaic instrumentations and virtuoso guitar parts with lyrics that allow the listener to dive deep into a mysterious, romantic world.
With their seventh album, Blackmore continues to develop his ability as a composer and instrumentalist without ever denying his former artistic identity. Mond Tanz/Child In Time is the resurrection of one of
Deep Purple
's greatest hits in a new guise, and Street Of Dreams is a haunting new edition of the
Rainbow
classic. Both songs represent the close artistic links to Blackmore's work in the Seventies and Eighties. At the same time, "Just Call My Name," "St. Teresa" or "I Guess It Doesn´t Matter" show that his rock musician's heart remains ever-present in his new compositions.
On the title track and on "Faerie Queen," Candice Night seems to blend together with Blackmore's acoustic guitar, while "25 Years" displays oriental influences. Then there are wonderful moments, such as the folkloric instrumental numbers "The Messenger" and "Village Dance," and the beguiling "World Of Stone," "Olde Mill Inn" and "Windmills." The album is rounded off by a new version of Ralph McTell's "Streets Of London."
A true kaleidoscope of music - journey with them back in time to medieval Europe - Blackmore's Night Style.
CD Tracklisting
01. 25 Years
02. Village Lanterne
03. I guess it doesn't matter
04. The Messenger
05. World of Stone
06. Faerie Queen
07. St. Teresa
08. Village Dance
09. Mond Tanz / Child in Time
10. Streets of London
11. Just call my name
12. Olde Mill Inn
13. Windmills
14. Street of Dreams
Bonus CD Tracklisting
01. Call it love (performed by Candice Night)
02. Street of Dreams (feat
Joe Lynn Turner
)
03. 20 min. interview footage with Ritche Blackmore & Candice Night
04. DVD Trailer "Castles & Dreams"