Deborah Puette Takes the Lead In A New Indie Short, 'Nuture'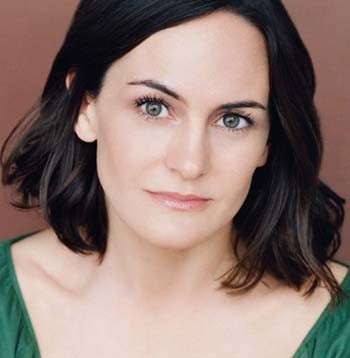 You may not realize that you know versatile actress, Deborah Puette, but chances are you do. Puette has been in everything from NBC's hit comedy 'The Office' to the Pulitzer Prize nominated play 'The Glory of Living' in which she plays a pregnant teenager turned serial killer. Along with wrapping a staring role in an upcoming Independent short film, 'Nuture' the actress took on three roles in this year's May sweeps including; 'Grey's Anatomy', 'Criminal Minds', and 'Parks and Recreation'.
Yeah, we said she was versatile.
We were lucky to get the opportunity to interrupt Puette's busy schedule to talk with her about her work and life. Turns out, she's quite fascinating.  
Was your involvement in this year's May Sweeps deliberate or just a lucky coincidence?
"No, it was a complete coincidence, but it's wonderful."
We are big fans of 'Parks and Recreation'. What was filming on that show like?
"I played a mother bringing her concern over the closing of the local Pawnee parks to Leslie Knope (played by Amy Pohler). We actually shot it three different ways so I wasn't sure what was actually going to air."
Really? That's interesting. Is it pretty typical to film different versions of a scene when filming guest spots on television?
Thinking, the actress responds, "Well… yes it's pretty typical and 'Parks and Rec' is filmed in a documentary style similar to 'The Office' so there were the regular show cameras as well as the documentary camera. I wasn't sure which shots were going to end up on air."
You have been in so many television series, but you actually were an accomplished stage actress prior to ever working in front of camera. Were television and film always a part of your career plan?
"Yeah, they were always part of the equation. Because I started out in Chicago and that is where I made my stage debut. I was really fortunate and I did really well really early. The acting world in Chicago is very powerful, but it's smaller and there are only a handful of casting directors. I happened to have worked for the casting director of a new series called Cupid (Cupid was a 1998 comedy-drama crated by Rob Thomas in which Jeremy Piven stars a man who believes he is cupid) and he brought me in to audition for a guest spot. I booked it and that's how I got my SAG (Screen Actors Guild) card."
Dobrorah recently revisited her roots, heading back to Chicago and the stage to perform a self written essay entitled 'An Unorthodox Tribute to Mothers and My Boy' to benefit the Greater Chicago Food Depository. The essay is a brutally honest representation of her experience with pregnancy and a new born son.
How did the essay and performance come into fruition?
"I had written an essay that I had performed in L.A and someone back in Chicago got wind of it. It turns out that the American Blues Theatre, where I worked when I lived there, was doing a benefit performance and the theme was mothers and family. It was a great excuse to do the piece again in a different venue."
What is the piece about?
"It's about my very (the actress swallows a giggle) uneasy relationship with my pregnancy and my son in his first 6-8 months. I had written it originally for an event in L.A. called "Rant and Rave". The one word theme I was given was, love. But this Rant and Rave it's not really a Hallmark event. It's known for having really more irreverent writing. My piece is really kind of an anti-love story because I had such a hard time with my pregnancy and my son in the beginning, but ultimately of course I came to love him even more fiercely than I would have otherwise."
It is clear that the piece is meaningful to Deborah and that she is proud of it so we were eager to hear about the other sort of non conventional project, the Indie short film, 'Nuture.'
"I'm really excited about it. I play the lead in a film called 'Nurture' that is going to be making its première at the Palm Springs International short film festival, which as I understand it is a pretty prestigious festival for short films. I've seen a cut of the film and I'm really proud of the work."
If you didn't catch Puette during sweeps keep an eye out for her in 'Nuture' premiering at the Palm Springs Short Film Festival June 22-28th. Puette has already proven to be successful on stage, television, film and as a writer. There are sure to be more surprises from this woman to come.