'Death Race' Explodes Into Theaters August 22

Jason Statham
leads the cast of an action-thriller set in the post-industrial wasteland of tomorrow, with the world's most brutal sporting event as its backdrop. A penitentiary full of felons has inspired the jailers to create a grisly pastime ripe for lucrative kickbacks. Now, adrenalized inmates, a global audience hungry for televised violence and a spectacular arena come together to form the
Death Race
.
Three-time speedway champion Jensen Ames (Statham) is an expert at survival in the harsh landscape that has become our country. Just as he thinks he has turned his life around, the ex-con is framed for a gruesome murder he didn't commit. Forced to don the mask of the mythical driver Frankenstein—a crowd favorite who seems impossible to kill—Ames is given an easy choice by Terminal Island's warden (
Joan Allen
): suit up or rot away in a cell.
His face hidden by a metallic mask, one convict will be put through an insane three-day challenge. Ames must survive a gauntlet of the most vicious criminals in the country's toughest prison to claim the prize of freedom. Driving a monster car outfitted with machine guns, flamethrowers and grenade launchers, one desperate man will destroy anything in his path to win the most twisted spectator sport on Earth.
Are you tough enough to join the
Death Race
?
Enter now for a chance to win a trip to San Diego Comic Con to meet the cast! You could also appear in the DVD release of the film as a casualty of the Death Race! For more information go to:
www.deathracemovie.net/sweeps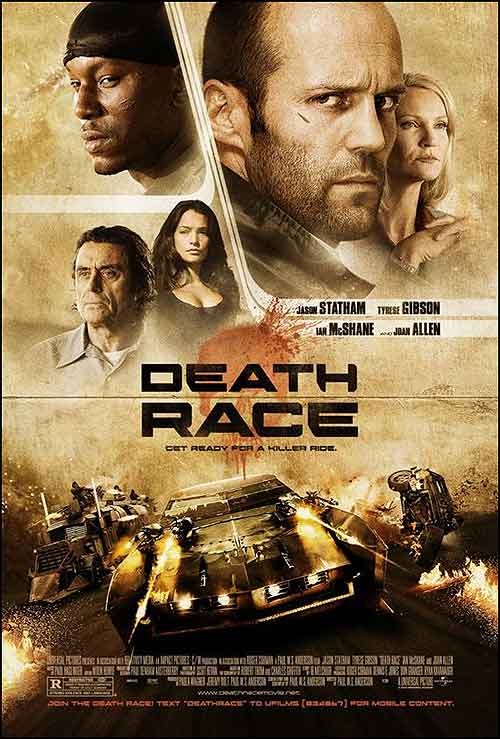 Race by the official website at
www.deathracemovie.net
and:
-Watch the trailer!
-Download wallpapers and buddy icons of the cast!
-Browse through the photo gallery of pictures from the set!
-
Get all the latest news about the film from Starpulse
(Streaming audio and/or video links may expire without notice)