Dean Cain Stars In The Heart-Warming Adventure 'Ace Of Hearts'; On DVD May 6

Discover the remarkable story of a courageous police dog that proves that a dog is a family's best friend in
Ace of Hearts
, debuting on DVD May 6 from Fox Home Entertainment.
Inspired by a
Reader's Digest
true story,
Ace of Hearts
stars
Dean Cain
("
Las Vegas
," "
Lois & Clark
") as Officer Daniel Harding, a distinguished officer of the K-9 police unit and his trusty four-legged partner Ace, a German Shepard. The journey begins when Ace is wrongly accused of hurting a suspect, leading an overzealous district attorney to convince police authorities he should be punished, stripped of his badge and taken away. Officer Harding and his 13 year-old junior sleuth daughter, played by Britt McKillip (
Bratz: Babyz The Movie
), team up and embark on a mission to clear Ace's name, save a valuable family member and bring everyone together again.
Officer Dan Harding (Cain) and his trusty canine partner, Ace are the best duo on the police force. But unfortunately, all of that hard police work leaves little time for Dan's family, including his 13-year-old daughter Julia (Britt McKillip). When Ace is accused of a crime he didn't commit, it's Julia who sets out to prove Ace's innocence. Soon Julia's keen sleuthing skills - combined with her unending faith and will to save Ace - reconnects her family when they need it the most.
Special Features:
The
Ace Of Hearts
DVD includes English and Spanish Dolby Digital audio along with English and Spanish subtitles and is presented in widescreen 1.85:1 aspect ratio.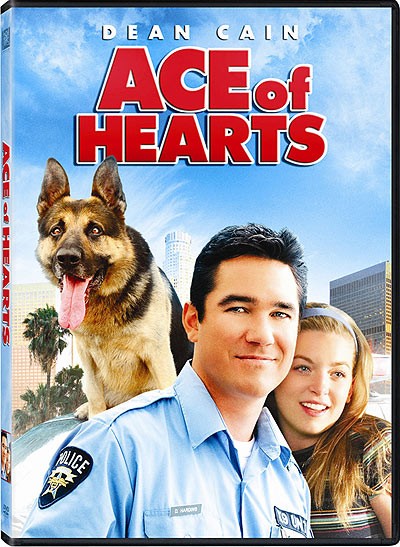 A recognized global industry leader, Twentieth Century Fox Home Entertainment LLC (TCFHE) is the worldwide marketing, sales and distribution company for all Fox film and television programming on VHS, DVD and Blu-ray Disc (BD) as well as acquisitions and original productions. The company also releases all products around the globe for MGM Home Entertainment. Each year TCFHE introduces hundreds of new and newly enhanced products, which it services to retail outlets -- from mass merchants and warehouse clubs to specialty stores and e-commerce - throughout the world. Twentieth Century Fox Home Entertainment LLC is a subsidiary of Twentieth Century Fox Film Corporation, a News Corporation company.