'Deal' is No Big Deal as Career of Burt Reynolds Fades Away

(
Hollywoodchicago.com
)– Poor
Burt Reynolds
. As the No. 1 box-office star from 1978 to 1982, he revived his film career in 1997 with "
Boogie Nights
". Since then, he has had the long, slow decline of "B" movies and bad remakes. Reynolds even tainted his own legacy by participating in the horrible 2005 redo of "
The Longest Yard
."
Will he ever get the one last script that will return him to glory? The film "
Deal
" isn't it. Reynolds plays Tommy Vinton: a mysterious stranger who begins observing young poker hotshot Alex (
Bret Harrison
).
Alex is from the Internet age and won an online contest to get to the World Series of Poker. Tommy is an old-school, professional poker player from the 1970s whose luck ran out shortly thereafter.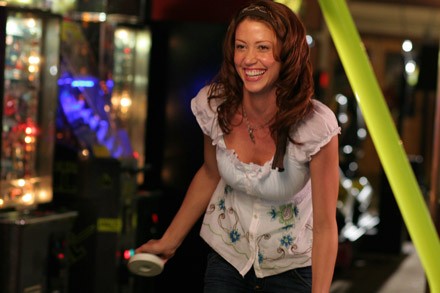 He hasn't played in 20 years on a promise to his wife. Tommy sees something in the Internet hotshot, though, and on the sly begins to coach him and bankroll his run through the poker tournament circuit.
As it happens in old mentor/young hotshot films, the two must angrily part. When you throw in the subplot of Reynolds' wife leaving him, it sets up the inevitable showdown between old professional Tommy and his former protégé. According to Hoyle, it has to be at the World Series of Poker, too.
The script treats all the characters like cliché factories. Every narrative element and poker situation is played up as if nobody in the history of television or cinema has even seen it before.
This recycles every nuance of every underdog sports movie – from "
Rocky
" to "
Rudy
" to "
Invincible
" – but not well.
Bret Harrison as Alex plays the part like a poor man's Charlie Schlatter: all toothy smile but with no idea how to develop his character.
Shannon
"
American Pie
" Elizabeth gets the worst "deal" of anyone in playing Alex's potential girlfriend as background material for a sleazy payoff. It was actually cringe inducing because it was set up poorly with a tacky and ultimately unnecessary reveal.
Reynolds plays Tommy like he needs a three-year nap. His dyed hair and plastic surgery scars are evident in every close-up. Even when his character is in supposed triumph, his demeanor radiates defeat.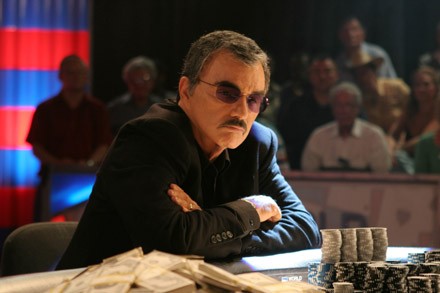 It was acting as paycheck cashing that only a star of his magnitude could achieve. Perhaps his playhouse in Florida is behind in the mortgage.
I kid old Burt. I'd like to think there's that one last script out there that can take the 72 year-old legend to retirement glory. Reynolds has a picture opening in 2009 where he plays a character named Jefferson Steel – that's right: Jefferson Steel.
The name of this epic is "A Bunch of Amateurs." That, too, is an apt title description for the production team behind "Deal."
"Deal" opens in Chicago and elsewhere on April 25, 2008.

By
PATRICK McDONALD
Staff Writer
HollywoodChicago.com
© 2008 Patrick McDonald,
HollywoodChicago.com