Deadmau5 Responds To Cheating Allegations From Kat Von D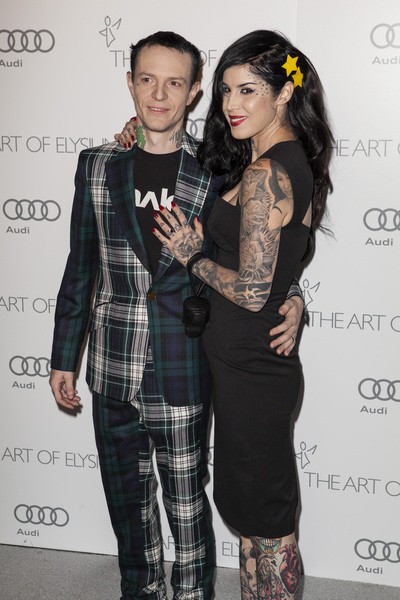 Deadmau5 has written a lengthy post on his Facebook page defending himself from an apparent cheating allegation by ex-girlfriend Kat Von D.
Kat Von D called off their engagement and wrote a message on Twitter alluding to a transgression by Deadmau5, real name Joel Zimmerman.
She posted, "Cheating on your loved one is the most hurtful thing one could do. I hate to have to admit that this relationship is indeed over... Onwards and upwards."
Earlier today, Zimmeran defended himself on Facebook, explaining that while he was with another woman, it was when the couple broke up briefly last November.
He writes, "All i am saying on the matter: Kat and I split in November and I moved back home to Toronto. During this time, while we were broken up, I did have relations with another woman. Following that, Kat and I reconciled and I acknowledged being intimate with another person while we were estranged. We did move past those issues and I proposed to Kat in mid- December.
"At the end of June, it was clear that the relationship was not working and we mutually ended the engagement. I was not, at any point, unfaithful to Kat during our time together. I don't wish to go tit for tat with these kinds of pronouncements and don't expect to comment further, but I do believe that those who have expressed concern deserve a more complete understanding of what transpired."
Kat Von D has since tweeted after Zimmeran's explanation, writing, "There are far too many good examples of kind and honest people in life to waste energy on bad ones. My apologies for losing sight of that."
Von D was previously engaged to Jesse James in 2011, but she called it off after six months.