'Dawn Of The Planet Of The Apes' Easily Takes Top Spot At Box Office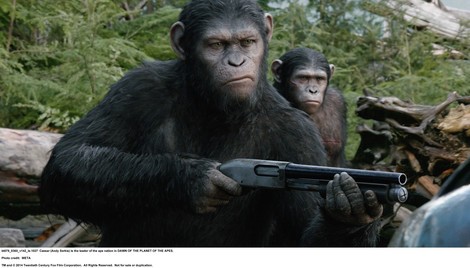 With no true rivals at the box office, it was pretty easy for Dawn of the Planet of the Apes to open at #1 at the box office - and by a wide margin.
Dawn earned $73 million over the weekend according to estimates, easily beating Transformers: Age of Extinction's third week haul of $16.5 million. Tammy, one of the few movies to open for the July 4th weekend, dropped to third with $12.9 million. 22 Jump Street and How to Train Your Dragon 2 rounded out the top 5.
The only other films opening this weekend were Bollywood romantic comedy Humpty Sharma Ki Dulhania and independent flick Boyhood. With action fans hungry for thrills after no new releases last weekend, Dawn was able to mop up.
We can't blame Dawn's success entirely on lackluster competitors: the film has critically successful as well, with some calling it the best of the franchise.