David Walliams Rescues Drowning Dog During Thames River Swim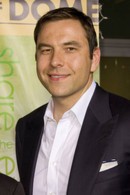 British comedian David Walliams has been hailed a hero after rescuing a dog from England's River Thames during his marathon swim fundraiser on Saturday.

The Little Britain star is raising money for the Sport Relief charity by swimming 140 miles along the river from Gloucestershire to Big Ben in London.

On Saturday, Walliams turned action man to save a pooch from drowning near Windsor, England.

In a series of posts on Twitter.com, a representative for Sport Relief writes, "On his way again. Earlier a young Lab (Labrador) dog was in trouble in the river as D (Walliams) swam past and he stopped and helped it to safety! He saved a dog's life!"

But Walliams has trouble ahead in his swimming route - he has been advised to abort the challenge early after raw sewage was diverted into the Thames in the London stretch of the river, where he is due to finish on Monday.

Richard Aylard, director of sustainability at Thames Water, tells Britain's Independent newspaper, "We've been in touch with David Walliams and he'll have to make his own decisions. We're not public health experts but I wouldn't recommend swimming through it."

David Harvey of the Thames Anglers Conservancy adds, "Whoever's advising (Walliams) needs to take a reality check. I fear for him. He's basically swimming through diluted effluent."