David Thewlis Pleased With Anti-'Anonymous' Campaign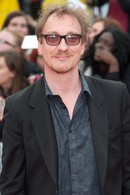 British actor David Thewlis was pleased to see Shakespeare campaigners waging war against his new movie Anonymous, because he is convinced all the "fuss" will give the film a box office boost.

The controversial picture suggests William Shakespeare was not the true author of his classic texts, and a campaign was launched this month to protest against the film.

Activists covered up a Shakespeare memorial in The Bard's birthplace of Stratford-upon-Avon, England and removed his name from road and pub signs, but Thewlis is adamant the campaign will actually be of benefit.

He tells Britain's Daily Express, "It's good to make a fuss. People who are against the film have done quite a good job for it by getting so worked up. They covered up the statue in Stratford - they've done that, not us. It's rather nice for the film because people think, 'Oh what's that? I might go and see it.'"