David Spade Spoofs 'The Bachelor' In Hilarious Funny or Die Video 'The Honest Bachelor' (Watch It!)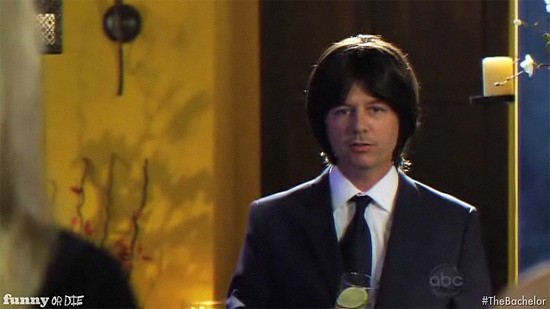 Rules Of Engagement star David Spade dons a shaggy black wig in a weak attempt to look like The Bachelor Ben Flajnik in a hilarious new Funny or Die! video called "The Honest Bachelor".

The video integrates footage from the actual 'meeting' scene from this season of ABC's The Bachelor - where Ben met all the ladies who would be competing for his heart - with David filling in for Ben and addressing the ladies with some pretty straight-forward, honest (and downright hilarious) commentary.

Some of the 'honest' comments include: "Wow, I see so much desperation in this room..." and "I'm secretly a d***, but no one's gonna find out until after they get the ring!"

"Most of you will fall in love with me in minutes - for some inexplicable reason," he adds, before going on to "judge" (read: berate) all the women in the room, including eventual winner Courtney Robertson, who the camera cuts too right after Spade says, "...and I'll probably marry the stupidest one."


Be warned: the video below contains some (actually a lot of) adult language, but fans and non-fans alike should get a big kick out of it.



See more hilarious videos at FunnyorDie.com!