David Spade Bags Groceries At L.A. Kmart For Charity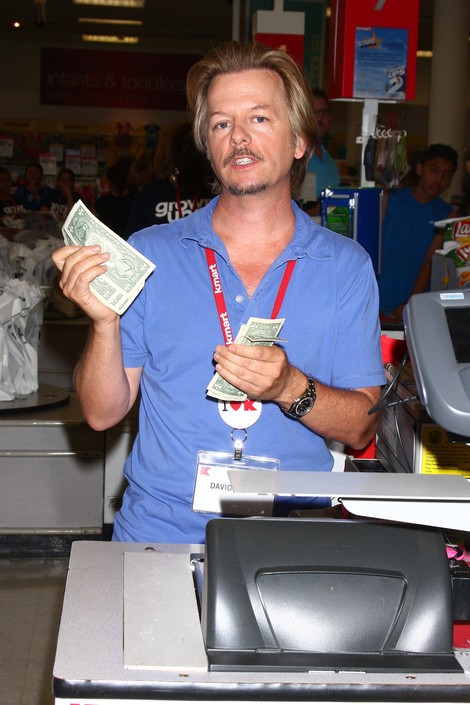 On Wednesday, David Spade delighted shoppers at a supermarket in Los Angeles when he spent the day bagging up groceries and entertaining the crowds across the loudspeaker to raise money for charity.

The 48 year-old comedian donned a name tag for his appearance at the Kmart branch as he joked around behind the cash register to earn funds for the March Of Dimes.

Spade shot a scene his new movie Grown Ups 2 in the supermarket and returned to the Mid-City West store for the promotional appearance to earn a $10,000 charity donation from Kmart bosses.

Speaking at the event Spade said, "This event for Kmart is tied in for Grown Ups 2. I get to be a cashier for a day, which will be a lot of fun. We did a big scene in the movie in Kmart. With all the guys and it was a lot of fun for us so it sort of made sense to come here and we all shop here let's be honest, so it made sense.

"They in turn are donating to the March of Dimes. They get $10,000 when I go down there and cashier it up. It's fun for everybody and it benefits in a nice way. We have a goofy way to have fun together."

The March Of Dimes organization aims to improve the health of expectant mothers and premature babies.