David Sobolov & Andrew Kishino Take Us Inside Hub's 'Kaijudo: Rise of the Duel Masters'
The Hub's newest animated series is Kaijudo: Rise of the Duel Masters, related to the card game issued by Wizards of the Coast. In Kaijudo, 14-year-old Ray (voiced by former V star Scott Wolf) trains and battles with fantastical creatures against evil forces who'd rather enslave them. It's an action-packed property that has kids buzzing.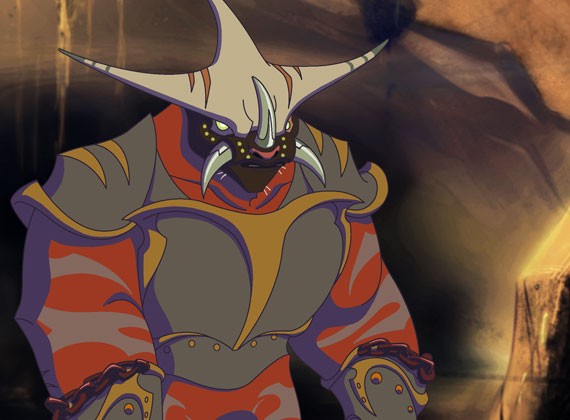 To get the inside scoop on Kaijudo, I sat down with two of the show's notable voice actors, David Sobolov (who provides the voice for the main creature, Tatsurion the Unchained or as he's better known, "Bob") and Andrew Kishino (who voices numerous secondary characters including one of the Duel Masters, one of the villains, and Ray's grandfather).
"I got involved with the show by auditioning at the last minute for a character called Grandpa. Being of half-Japanese descent I drew on my genetics to pour on the vaguely Japanese accent and made him sound quite a bit like my own grandfather," explained Andrew of how he became involved with the property. Added David, "I had a bit longer of a process. I think it was almost a month and a half to two months before I found out I was cast."
Neither actor was familiar with the game before signing onto the show, though David got a glimpse of it when he attended San Diego Comic-Con for the Kaijudo panel earlier this month. "I had to do a little bit of research on it," said Andrew. "One of the things that came up was there was a code of fair conduct, of just treating everybody equally when playing the game, and that has obviously been integrated fully into the show [with] the addressing of issues like bullying and so on and so forth."
Both actors believe it's that willingness to teach, not just entertain, that sets the show apart from most children's programming (the show's target audience is boys ages 9-12). Said David of his massive protagonist (pictured above), "If this was any other show, he'd just be this screaming monster and that's where they'd leave it. There are so many levels [like] the ideas of friendship and loyalty. My creature is partnered with the hero of the story, Ray, and we form a partnership. My character learns in a sense how to be human."
And it's not just for the boys. "Allie is absolutely unbelievably brilliant," said Andrew of the show's female lead character, who is voiced by Kari Wahlgren. "She is ruthlessly funny and she's a great role model. She's a strong, outspoken, confident young woman. You can see that she's going to become a great girl."
They're not just voice actors but they're also genuinely fans of Kaijudo as well. "Here's the unusual thing about this show. I forget that I was in this because I'm enjoying the show so much," David told me. As far as favorite episodes, "There's two that I like and I don't know if Bob had a huge part in either one of these. The 'Om Nom Nom' episode, and there's another one with a creature called Razorkinder Puppet, and he's especially creepy."
Andrew agreed, "The Razorkinder episode was one that I liked it because I got so freaked out by the character. It was so wonderfully creepy and nightmarish. It drew me in immediately."
As far as what's ahead for the rest of this season, David added that the show will actually be going backward in order to move forward. "The backstory is huge about [the characters'] families and their lives and things that have happened in their past and [it] lets you know why they are the way they are. There's some really interesting things coming up. It's almost like a soap opera in a sense. There's a continuing story going on."