David Lynch & Interpol Team Up For Coachella Spectacular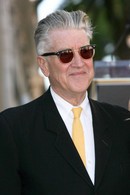 Movie maverick David Lynch followed up his live Duran Duran concert film with another online spectacular during Interpol's set at the Coachella festival in California on Friday night.

The band announced the odd collaboration via a blog on their record label's website on Friday.

Lynch and the New York group teamed up to make a bizarre new art film, called Interpol Under Surveillance, which debuted on a screen behind the band as they performed at Coachella.

The set also featured the premiere of Lynch's new animated short I Touch A Red Button Man.

Last month the moviemaker filmed Duran Duran, who are also playing Coachella, onstage in Los Angeles. The film and music show was beamed on line via YouTube.com.

YouTube.com also featured Interpol's stage show.