David Letterman's Studio Burglarized Again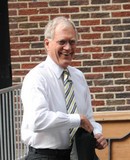 David Letterman's The Late Show home at Broadway's Ed Sullivan Theater has been burglarized for the second time in a week.

James Whittemore, a struggling actor, was taken into custody on Sunday for allegedly breaking and entering the famed New York City studio, where the Beatles made their historic U.S. TV debut.

And, in the early hours of Thursday, a second intruder was arrested after he gained access to the venue's lobby by hurling a newspaper stand through the front door and causing $1,500 worth of damages.
 
Aspiring musician Alvin Moore, 42, was apprehended by a security guard and later arrested on charges of burglary and criminal mischief.

Moore reportedly told authorities he was angry Letterman did not respond to the demo tapes he sent and wanted to get attention.