David Letterman Honors Robin Williams With Touching Tribute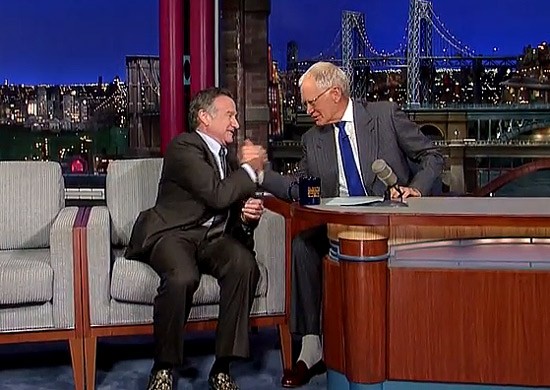 David Letterman paid tribute to late friend Robin Williams on Monday night's show, telling stories about when the two first met 38-years ago at the Comedy Store in Los Angeles.

Letterman had yet to acknowledge his friend's passing as The Late Show was on hiatus last week, and upon his return to the airwaves he spoke for just over eight minutes about last week's shocking news that Williams had passed and reflect on Williams' rise to fame before airing a two-minute tribute video of clips from the star's appearances on his show.

Letterman compared himself and fellow comedians like Jay Leno and Elaine Boosler, who were all starting out at the Comedy Store around the same time, to a "morning dew" while Williams came in "like a hurricane" when he made his debut.

"The longer he was on stage the worse we'd feel about ourselves," Letterman said about his friend's talents.

"Even in the old days, he was kind enough to ask me to appear on the Mork & Mindy show," Letterman said of Williams' kindness. "He did it only because he was trying to help other fledgling, starting-out comics... but he gave me a job."

"So even to the detriment of the show, Robin was kind enough to invite me to come on because he thought, 'Why can't I spread this around and have some of my friends share in my success?'" Letterman added, "which is exactly what he did."

Williams was a guest on The Late Show over 50 times.

Letterman introduced the clip, saying, "More than anything, it will make you laugh, and that's what we should take from this. He could make you laugh under any circumstances."

Check it out...