David Letterman Banned 'Spring Breakers' Director From 'Late Show'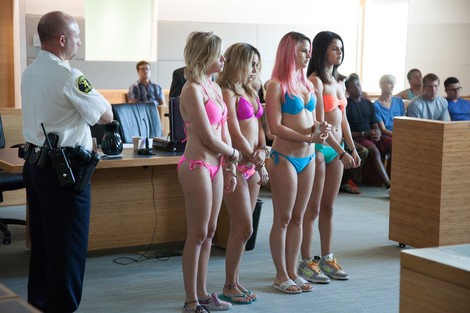 David Letterman hasn't banned many people from appearing on his talk show, but that's what he was forced to do when he witnessed what Spring Breakers' director Harmony Korine was doing backstage.
While talking to Spring Breakers star James Franco, the actor revealed that Korine had been on the show to promote his previous works and was listed for a fourth appearance, only to be bumped from the show. Franco had heard that Korine "pushed" Meryl Streep backstage and was kicked off the show.
"Harmony is a very sane guy now -- a great artist and great person to work with. But I think he had a period where he was going a little off the rails, so maybe he was on something that night," Franco explained before Letterman gave him his side of the story.
Letterman said, "I went upstairs to greet Meryl Streep and welcome her to the show ... and she was not in there, and I found Harmony going through her purse. True story. And so I said: 'That's it. Put her things back in her bag and then get out.'"
The talk show host later said that if it was true that Korine has changed since then, he would be happy to have him on as a guest.