David Letterman Back At Work After Terrorist Death Threat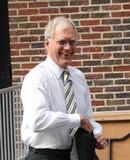 Talk show host David Letterman has returned to work a week after a threat against his life was posted on a terrorist website.

The Late Show host was back behind his desk on Monday following a two-week vacation, during which a man named Umar al-Basrawi urged fellow Muslims to "cut the tongue of this lowly Jew and shut it forever" after Letterman poked fun at accused terrorist leader Ilyas Kashmiri, who was killed during a U.S. airstrike in Pakistan in June.

The threat against the TV personality, who is not Jewish, was made on Shumukh-al-Islam - a popular Internet destination for radical Muslims.