David Lee Roth Breaks Up Fight At Van Halen Show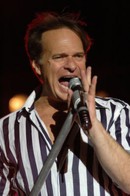 David Lee Roth stopped Van Halen's show in New Hampshire on Tuesday night to break up a fight in the audience.

The newly-reunited band was playing at the Verizon Wireless Arena in Manchester when violence broke out in the crowd, and after Roth saw the fans fighting, he halted the show.

The singer was in the middle of a cover version of Roy Orbison's Oh, Pretty Woman when he called out to his bandmates, "Wait a minute, stop, stop!" before turning to the audience and saying, "Knock off the f**king fighting. F**k you! What do you think this is, a f**king mosh pit?"
"You've got all the best-looking women on the f**king East Coast here and all you can f**king think of is f**king fighting?... Ladies, I'm on your side, yeah."

He added, "Shall we continue? Start it back at the top... Let's do the whole thing over again," and then moved on with the show.