David James Elliott Training For Paddleboard World Championship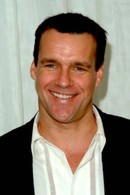 Actor David James Elliott is training to compete in a 32-mile paddleboarding competition.

The former JAG star, 51, reveals he's had to find another sporting hobby after suffering injuries to his knees from completing the ultimate test of endurance, the Ironman Triathlon, which involves a 2.4-mile swim, a 112-mile bike and a marathon 26.2-mile run.

And now he's become such a pro at paddleboarding, he's testing his water sport skills in the upcoming Molokai-2-Oahu Paddleboard World Championship race in Hawaii.

Appearing on Live! With Kelly on Thursday, he says, "I'm gonna do a race called the Molokai challenge in Maui. It's 32 miles, ...on a paddleboard."

"I did the Ironman (Triathlon) some years ago but I blew my knees out so I can't run anymore, so now I do jujitsu with my boys... and paddleboard."

The competition takes place on July 29th.