David Hasselhoff Proposes To Girlfriend On Top Of Sydney Bridge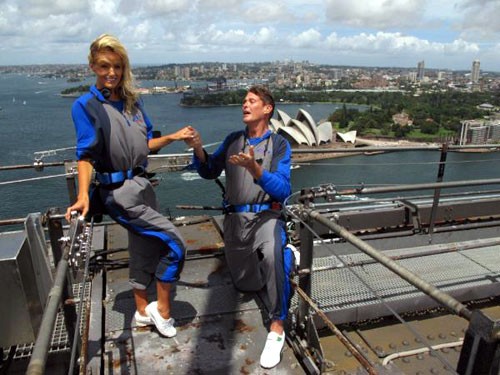 David Hasselhoff revealed on Twitter yesterday that he proposed to his girlfriend Hayley Roberts on top of the Sydney Bridge in Australia.
The former "Baywatch" star has been desperate to wed his Welsh girlfriend ever since they started dating early last year.

Hasselhoff has asked the blonde to marry him on five different occasions, but she turned down his proposals.

However, it now appears the actor has finally got the answer he wanted after popping the question on top of the famous Australian landmark.

He posted a picture of the pair on Twitter along with the words, "Tried it again on top of the Sydney Harbour Bridge!" adding, "What do you think she said!?!?!" before posting a picture of them embracing in a passionate kiss.

Roberts also kept fans guessing as she suggestively put up a smiley face with lots of kisses on her own Twitter blog.

Hasselhoff has been married twice before to Catherine Hickland and Pamela Bach, the mother of his two grown-up daughters.