David Hasselhoff: 'Greg Giraldo Was A Fantastic Gentleman'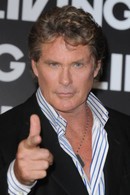 David Hasselhoff has paid tribute to comedian Greg Giraldo, who died on Wednesday.

The comic was taken to a hospital in New Brunswick, New Jersey, on Saturday after suffering an alleged accidental drugs overdose and passed away four days later. Now Hasselhoff, who appeared alongside Giraldo in a Comedy Central Roast in August, is leading tributes to the funnyman,

In a post on his Twitter.com page, Hasselhoff writes, "Greg Giraldo was a fantastic gentleman with a great heart! And I am deeply saddened by this news!"
 
Ghost Whisperer actor Jamie Kennedy also offered his condolences, writing on Twitter, "Greg Giraldo. The world has lost a brilliant mind. I was very fortunate to watch Greg at the laugh factory many times. He was gut busting. RIP."

Comedienne Sarah Silverman praised the late star for being "belly-laugh hilarious, prolific, good & kind."