David Hasselhoff Enjoys 'Welsh Yuletide'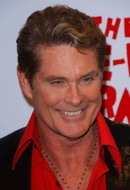 Former Baywatch star David Hasselhoff is spending Christmas in the U.K. after jetting from Los Angeles to join girlfriend Hayley Roberts at her family home in Wales.

The actor usually enjoys the festive season at his California home, but this year he's agreed to leave the U.S. for a different kind of holiday season.

Both Hasselhoff and Roberts can't wait for him to experience a traditional British Christmas - including gift-packed 'crackers' and paper 'crowns' - and they're hoping for a snowy scene to complete the picture.

Hasselhoff says, "I have never experienced a Welsh Christmas and Hayley tells me her mum is nervous about cooking dinner for me. My own mother has passed away, but every Christmas I looked forward to her food, which was amazing. I have no idea what to expect in the U.K.."

Roberts adds, "I can't wait to watch him open all his presents. And to see him in his cracker hat - they don't have Christmas crackers in California, so that'll be a new experience for him. I'm going to make him wear it all through dinner."