David Guetta Scores Top DJ Award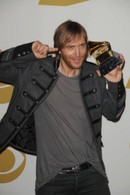 David Guetta has been named the best DJ in the world in an annual poll, knocking three-time winner Armin Van Buuren from the top spot.

Dutch star Van Buuren has held the number one position in DJ Magazine's Top 100 DJs rundown since 2008, but Guetta has now snatched the lead thanks to high-profile collaborations with stars including Rihanna and Nicki Minaj.

He says, "I'm very happy. I was thinking it was going to be impossible for anybody to replace Armin Van Buuren as number one. I've had amazing success as a producer, but I always saw myself first of all as a DJ. Of course I love making music, but DJ culture is everything to me - it's been my life for so many years."
"It's been an incredible few years recently; it's been a real revolution for everyone - not only for me, for everyone that is a DJ, a producer."

"Everything is changing, our sound is taking over the planet."

Tiesto came third in the poll, while Deadmau5 is at four. Above & Beyond round out the top five.