David Fincher Turned Down Scarlett Johansson For 'The Girl With The Dragon Tattoo'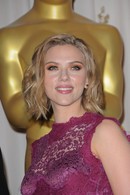 Scarlett Johansson missed out on the coveted role of Lisbeth Salander in director David Fincher's The Girl With the Dragon Tattoo because the filmmaker feared cinemagoers would be distracted by the thought of the Girl With A Pearl Earring star baring all.

The moviemaker has opened up about his decision to cast Rooney Mara as the enigmatic computer hacker in the new issue of Vogue magazine, admitting Johansson was a serious contender for the role thanks to a stunning audition.

He says, "We saw some amazing people. Scarlett Johansson was great. It was a great audition... But the thing with Scarlett is, you can't wait for her to take her clothes off.

"Salander should be like E.T. If you put E.T. dolls out before anyone had seen the movie, they would say, 'What is this little squishy thing?' Well, you know what? When he hides under the table and he grabs the Reese's Pieces (candy), you love him! It has to be like that."