David Faustino Is One Of Netflix's 'Bad Samaritans'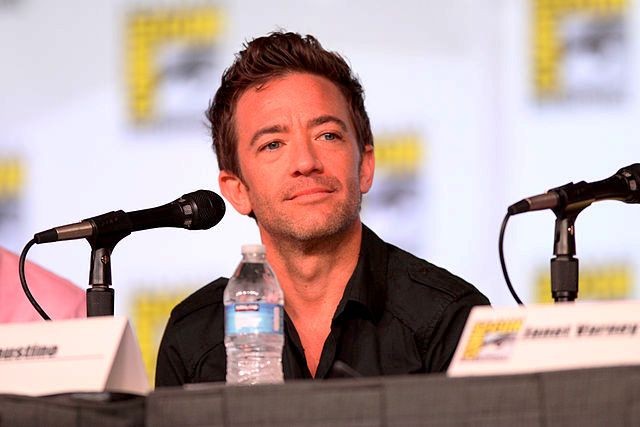 Netflix's other new original series is the comedy Bad Samaritans, with all five episodes of the show about a dysfunctional group sentenced to community service arriving today. BFTV checked in with David recently to get the scoop on the series and find out if his famous role from Married with Children is still following him around.
"I think it's a funny show. It's basically about a group of misfits that get committed to community service, and I'm the community service leader. Really, all I wanted to be was a cop, but I couldn't meet the requirements to be a cop. I hate my job and they don't respect me," said David of his character Dax Wendell. "Each episode is a different community service project. They go from having to work at a kennel to cleaning up an elementary school."
"It's the first time I've had to grow a mustache for anything," he quipped, adding that "Besides Robert [LaSardo, who plays the character of Doug], they're kids, so it's funny to now be on the other side, where I'm kind of like the grandaddy of the cast - although Andy Dick makes an appearance."
The actor has come a long way from his breakout role as Bud Bundy on FOX's Married with Children, which ended almost sixteen years ago, in June of 1997. Bad Samaritans is not his first web series; four years ago he created, wrote and co-starred in the Crackle project Star-ving, another web comedy in which David played a fictionalized, exaggerated version of himself post-TV fame: broke, unemployed, and with his wife having left him for rapper Coolio.
"I'm pretty proud of Star-ving. It was something that my partners and I wrote, produced and directed from the ground up," he said, "and for the money that Sony gave us, we got a great cast - Gilbert Gottfried, Ed Asner, the whole Married with Children cast, Seth Green." You can watch all twelve episodes of Star-ving here.
David also moved into voice acting, most notably as the character of Mako on Nickelodeon's Avatar: The Last Airbender prequel series, The Legend of Korra. Season two of that series is scheduled to debut sometime this year (a specific premiere date has yet to be announced).
"I couldn't believe it when we went to [San Diego] Comic-Con. I had no idea what we were walking into. We were the only cartoon that had one of the giant ballrooms," said David of working on the hit animated series. "It's funny being at Comic-Con because you'd have the kids coming up and they'd be like 'Mako!', and they'd be with their parents and their parents would be like 'Bud!'" His other voice roles include Winx Club and Cartoon Network's Dragons: Riders of Berk, which is based on the DreamWorks film How to Train Your Dragon.
Outside of acting, David has also launched his own independent record label, and is currently working with rapper Patience Price. "He's just an amazing writer and amazing rapper, and he's yet undiscovered really. I'm really proud of him and I'm proud of what we've done with his career," explained David, who also has his own rap alter-ego, Lil' Gweed. He describes his own music as "definitely comedy-based. The music's funny, but it's also really dope." You can visit Patience Price's official website here and check out the Lil' Gweed official site here to sample both their sounds.
With so much time having passed and the other projects he's accomplished since then, does David feel that he's still thought of as the kid from Married with Children? "I'll always be known as Bud Bundy on some level and that's fine with me," he said. "Once I embraced it, because he was such a lovable character, it allowed me a lot of great things in my life. It opened so many doors for me, because people have such fond memories of growing up with that show. They'll always remember that character. There were some stigmas I had to shake - growing up as a child star and that whole thing, it's not the easiest gig in the world - but it's going well."
Bad Samaritans is available on Netflix now; the trailer is below. You can also keep up with David by visiting his official website and following him on Twitter (@DavidFaustino).
(c)2013 Brittany Frederick. Appears at Starpulse with permission. All rights reserved. No reproduction permitted. Visit my official website and follow me on Twitter at @tvbrittanyf.