David Duchovny Involved In Legal Dispute With Psychologist Over Sex Addiction Book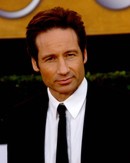 David Duchovny's lawyer has ordered a psychologist to stop using the actor's name in association with a new book on sex addiction.

The X-Files star has talked candidly about his sex addiction issues in the past after he split from his wife Tea Leoni in 2008 and enrolled in a rehab program to treat his personal problems.

Clinical psychologist David J. Ley has written a new book on the subject, titled The Myth of Sex Addiction, and he used Duchovny as an example in an article published in the New York Post over the weekend.

The actor's attorney, Stanton L. Stein, subsequently sent a letter to Ley and ordered him to stop associating the star with his research, writing, "We understand that your book characterizes sex addiction as a 'fictitious disease'... used as an excuse for irresponsible behavior. Mr. Duchovny objects to being associated with your book in any way."

Stein tells the New York Post, "I am not complaining about whether sexual addiction is or is not an actual medical condition... I am objecting to him using my client's picture in order to sell his book. The purpose of my letter was to tell him I don't want him using illegal pictures of my client in his book."