David Crowder Band, Chris Tomlin Featured Performers At Passion 07 Conference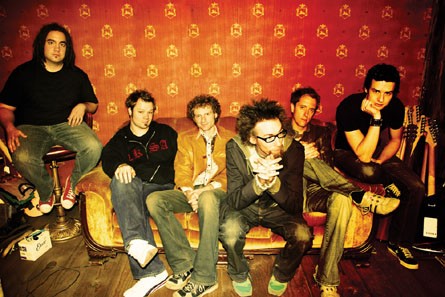 Collegiate Gathering Leaders Include Louie Giglio,
Chris Tomlin
, John Piper,
David Crowder Band
, Beth Moore,
Matt Redman
, Francis Chan, Others... Thousands From All Over The World Converge in Atlanta; Students from 48 States, 12 Countries Already Represented.
Passion Conferences is hosting Passion 07, a four-day indoor gathering for college students from around the nation and world January 1 – 4, 2007. Leading the worship, teaching and prayer gathering will be renowned speakers Louie Giglio, John Piper, Beth Moore, Francis Chan among others, as well as such acclaimed artist-worshipers as Chris Tomlin, David Crowder Band, Charlie Hall, Matt Redman and more. More than 20,000 students are expected from all across the USA and internationally, with 12 countries already represented, including Japan, South Korea, South Africa, Australia, Brazil and Ireland.
To keep up with the swell in registrations this year, main Passion 07 gatherings will be held in two locations, the Phillips Arena – Atlanta and the Georgia World Congress Center, both in the heart of downtown Atlanta. The two venues will be joined via satellite and live elements will take place in each main arena creating one massive worship gathering. Not only will students worship together in arenas packed with thousands of faces representing campuses from every corner of the nation and beyond, but they will also have the chance to sit and process what God is doing in their lives with a small group of students they connect with through the smaller community groups that make up the fabric of the conference.
Similar to last January's Passion 06 in Nashville, Passion 07 will provide smaller sessions through Community Groups, Family Groups and Late Nights. The Community and Family groups will allow students to unpack what they learn throughout the week in small group environments and the Late Nights give students a chance to "hang out" after the evening session ends each night.
More than an event, Passion is a movement. The heartbeat of Passion is the glory of God through a generation of college students living radically for His name so that campuses awaken to His fame.

"Making our lives count for what matters most is a worthy goal, but a costly proposition, one that must be thoroughly absorbed and embraced if our lives are going to be shaped for His renown," says Louie Giglio, Passion Conferences founder/director. "Thousands of students will merge from across the nation and around the world to sink their teeth into the confession of Isaiah 2:68. First wrapping our hearts around what it means to be satisfied in Christ, we want to echo the fame of the Satisfier in everything we do."
With registrations coming in much faster than for last year's Passion 06, more than 15,000 students representing 48 states and 12 countries have already registered for Passion 07. Students are encouraged to register early, as space is limited. Although the venues are larger than last year, the Passion 06 conference sold out in advance, bringing together more than 18,000 in Nashville with college-age students representing every state, 1,100-plus campuses and twenty foreign countries. Registration information, schedule and conference details can be found at www.268generation.com.
In order to make Passion 07 happen, over 1000 volunteers are also needed to serve throughout the conference in various jobs. For people over the age of 25, Passion Conferences requests they attend
as a volunteer or as a leader of a group. Those interested in volunteering at Passion 07 are asked to submit a volunteer application at www.268generation.com before the Dec. 15th deadline.
As Passion 07 approaches, an experience of last year's Passion 06 can be heard on sixstepsrecords' ninth Passion project, Passion: Everything Glorious. The recording features music recorded live from the main stage at the Passion 06 gathering. Released April 4 to wide critical acclaim, the project claimed the highest street week sales ever for a Passion recording launching to No. 1 on the SoundScan Praise & Worship sales chart and landing at No. 69 on the Billboard Top 200, while simultaneously becoming the second highest full album debut in the history of EMI CMG digital releases.
The Passion movement began in 1995 with a stirring in the heart of Passion founder Louie Giglio. Born out of a desire to see the 13 million college students (over 16 million today) of the nation awaken to the reality of a glorious God, the vision took shape under the leadership of men like Giglio and the board of Choice Ministries, the non-profit umbrella for Passion Conferences. Like-minded campus ministers then met together in 1996 and paved the way for the first of three Passion gatherings (1997, '98 and '99) that united over 18,000 college students with the desire to see God magnified in their lives, their campuses and throughout the earth.
Since then, millions have connected with Passion through one of the several gatherings, such as the OneDay gatherings and the Passion Experience Tour featured by the New York Times, CNN, among others, or through nine Passion worship recordings and four DVDs that have been released worldwide, selling well over one million copies. The domino effect has spawned a movement that has circled the globe.
Centered on Passion's core scripture, Isaiah 26:8, the unique purpose of Passion is to gather college students from campuses and churches across the nation, uniting them across ministry and denominational lines to seek the face of God together in worship and prayer. Affirming and valuing the work of local churches and campus ministries, Passion seeks to foster unity and connectivity among them, encouraging them to draw strength and encouragement from each other, resulting in a louder anthem of God's renown.
Find lots more about Chris Tomlin
here on Starpulse
!
Find lots more about David Crowder Band
here on Starpulse
!