David Cook Joins United Nations Refugee Campaign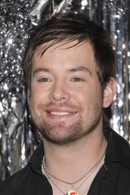 Rocker David Cook has thrown his support behind a United Nations charity drive to raise funds for Somali refugees in Ethiopia.

The former American Idol winner traveled to the poverty-stricken African country last year as part of the TV talent show's philanthropy efforts and he was so affected by the experience, he's decided to team up with the UN Foundation's Girl Up campaign.

Cook has offered up a free song download in exchange for $25 donations to the cause, which aims to raise awareness and funds to help Somali girls living in the Jijiga refugee camp.

He says, "As part of Idol Gives Back, I was able to travel to Ethiopia with the United Nations Foundation and witness firsthand how girls are struggling to overcome poverty.

"Going to Ethiopia inspired me to give back through my music, which is why I'm donating a free download of We Believe, a song that was inspired by my trip, to every person who gives to Girl Up."