David Chase To Develop Miniseries For HBO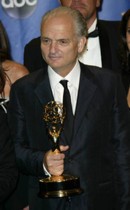 David Chase
, multi-award-winning creator of "
The Sopranos
," is returning to HBO to develop a miniseries about the invention of cinema and subsequent growth of the Hollywood film industry.
Entitled "A Ribbon Of Dreams," the miniseries will begin in 1913 and follow two men, one a college-educated mechanical engineer, the other a cowboy with a violent past, who form an unlikely producing partnership and together become pioneers and then powers for a time in motion pictures.
Chase will write and executive produce the miniseries, as well as direct the initial episodes. Paramount Pictures chairman and CEO Brad Grey, who executive produced the landmark HBO series "The Sopranos" with Chase, will also serve as an executive producer on the miniseries. "A Ribbon Of Dreams" will be an HBO/Paramount Pictures/Chase Films production.
The miniseries will follow the two main characters as they begin as employees of D.W. Griffith, and then cross career paths with
John Ford
,
John Wayne
,
Raoul Walsh
,
Bette Davis
,
Billy Wilder
and others who gave shape to Hollywood as it grew from the age of rough-hewn silent Westerns, to the golden era of talkies and the studio system, to the auteur movement, to television, and finally to the present day. "A Ribbon Of Dreams" takes its name from Orson Welles' description, "A film is a ribbon of dreams."
Chase said, "It gives me pleasure to think of working, together with Brad, with HBO, again. These are all people who, obviously, occupy a special place in my heart."
Prior to creating "The Sopranos," hailed as one of the most significant series in television history, Chase executive produced the series "I'll Fly Away" and "
Northern Exposure
," and created and executive produced the critically-lauded drama "Almost Grown." Chase is also currently writing a feature film for Paramount Pictures. He is represented by UTA and attorney Michael Gendler.
Kary Antholis, president, HBO miniseries, will oversee the project.