David Carradine's Widow Reaches Settlement Over Neglect Lawsuit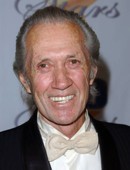 David Carradine's widow has settled a lawsuit in which she accused production bosses behind the tragic actor's final movie of neglect - after he died while shooting on location in Thailand.

The Kill Bill star, 72, was found hanging in the closet of his Bangkok hotel room in June, 2009. Investigators ruled the actor had died of accidental asphyxiation during a dangerous solo sex game.

Carradine, who had been filming the movie Stretch at the time of his death, had been left in his hotel room after an assistant assigned to look after him went for dinner with production staff after he failed to get hold of the actor.

Anne Carradine launched legal action against MK2 Productions executives last year, claiming her husband would never have died if he had been properly looked after.

According to court papers, Carradine had tried to call the assistant back, only to be told that he would have to "make his own arrangements that evening". He was found dead hours later.

TMZ.com reports the two parties have now reached a financial settlement to put an end to the case, and Anne is said to be receiving around $400,000 in damages.