David Beckham Urges Fans To Donate To UNICEF's African Famine Relief Fund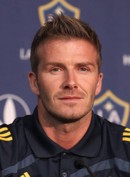 New dad David Beckham is urging fans to donate to UNICEF's Africa drought and famine fund, insisting he "cannot begin to think" about the effect of the "horrific" crisis.

The soccer superstar is a Goodwill Ambassador for the organization and he's been left shocked by the humanitarian crisis hitting the Horn of Africa, which includes countries such as Somalia, Kenya and Ethiopia. Millions of residents are fleeing to find refuge in other areas and those left behind are struggling to find food as crops and cattle have died in the drought.

Beckham - a dad of four, including new baby daughter Harper, who was born earlier this month - has now penned a passionate plea for Britain's Daily Mirror, encouraging readers to hand over just $8 to UNICEF's campaign.

He writes, "The children of Somalia and East Africa are in the middle of an unthinkable food crisis. Almost two million children in Somalia alone have been going to bed hungry for many, many weeks. Every six minutes a child in south Somalia is dying from hunger. Just think about that. And many more will die in the coming weeks unless you and I do something to help."

"I never want to see Brooklyn, Romeo, Cruz or Harper go to bed without a meal. I cannot begin to think what it is like for those children, with not even a grain of rice in their stomachs, going to bed hungry day after day, week after week. They need our help. They need our attention. They need our action."

"The situation is grim and millions of children are in desperate condition. Their families have been tipped over the edge, their animals are dead, and they have nothing left to live on. Those who are strong enough are walking miles in search of help. Those who aren't are staying in their villages, desperately hoping that help reaches them in time."

And Beckham, who has visited Sierra Leone and South Africa in his UNICEF role, admits the cause is close to his heart: "In the past few weeks I have experienced the incredible happiness that comes from being a father again - for the fourth time! And I know that there is nothing I wouldn't do for my children. But for those families in Somalia, facing a perilous and uncertain future, they need your thoughts too. And they need you to act."