David Beckham Says The London Riots Left Him Feeling 'Physically Sick'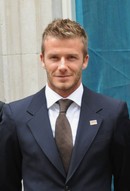 Soccer ace David Beckham was left sickened by the London riots which plagued his native England this summer, and he fears the nation's youth has lost all respect for authority.

Violent riots, looting and civil unrest broke out across the city and in other areas of the U.K. as part of a widespread protest after a 29-year-old father-of-four was shot dead by police in August.

And although the issue was eventually contained, Beckham is concerned riots will continue to pop up around Britain in the years to come due to the younger generation's growing disregard for those in power.

The soccer star and model tells the Wall Street Journal Magazine, "We've got the Olympics next year and these (rioting) pictures are being seen all around the world. It makes me feel physically sick. I think it's disgusting what's going on. The problem is, there is a minority of youth today in England who are not scared of authority."

"If they steal something, they are not worried about the consequences. When I was a kid growing up I respected elders, I respected the law. If I was on a bus and an elderly lady got on, I would stand up and let her sit down."

"That doesn't happen these days."