David Beckham Leaves Los Angeles Galaxy On A Winning Note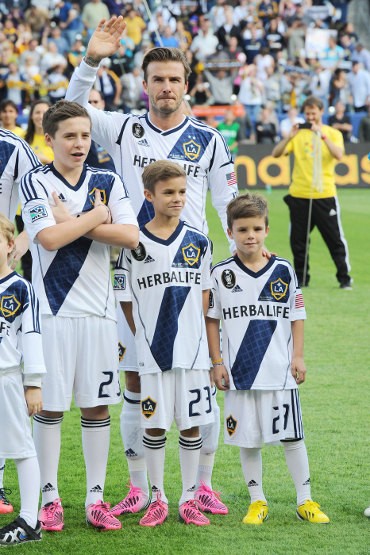 David Beckham has left the Los Angeles Galaxy on a high after winning Major League Soccer (MLS) Cup for the second time.

The British sportsman played his final game for the L.A. team against Texas' Houston Dynamo on Saturday, winning 3-1 at the Home Depot Center in Carson, California.

Beckham was given a standing ovation from fans at the stadium when he was substituted in injury time.

His sons Brooklyn, Romeo and Cruz helped him celebrate the victory by joining him on the winners' podium after the match, and Scottish actor Gerard Butler also joined Beckham for official photos taken with the MLS trophy.

Beckham announced plans to leave the U.S. squad last month, insisting, "In my time here I have seen the popularity of the game grow every year. I've been fortunate to win trophies, but more important to me has been the fantastic reception I've had from fans in L.A. and across the States. Soccer's potential has no limits in this wonderful country and I want to always be part of growing it."