Dave Navarro To Front TV Tattoo Talent Competition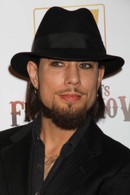 Jane's Addiction rocker Dave Navarro is to host a new reality TV tattoo contest.

The guitarist will front Inkmaster for Spike TV.

The competition series will feature America's top tattoo artists competing in challenges to win $100,000 and a feature in genre magazine Inked, according to TVGuide.com

It won't be Navarro's first TV hosting job - the rocker also fronted music talent shows Rock Star INXS and Rock Star Supernova.

The heavily-tattooed guitarist will also serve as a judge on the new show.

This comes on the heels of news that Kat Von D's tattoo show, LA Ink, has been canceled by cable network TLC.